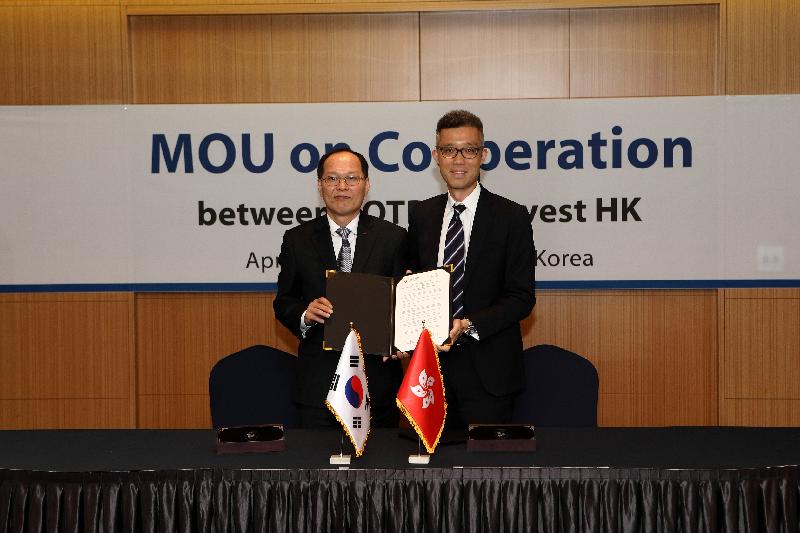 Invest Hong Kong (InvestHK) and the Korea Trade-Investment Promotion Agency (KOTRA) today (April 19) signed a Memorandum of Understanding (MOU) at a joint business seminar in Seoul.
The MOU was signed by the Associate Director-General of Investment Promotion, Mr Francis Ho, and the Executive Vice President for SME Support of KOTRA, Mr Sun Seog-ki, at an investment promotion seminar co-organised by InvestHK and KOTRA, which was attended by over 250 senior business executives.


The MOU provides a framework for enhancing the close relationship between the Hong Kong Special Administrative Region (HKSAR) and Korea by promoting both inward and outward investment of the two jurisdictions. According to the MOU, both sides will exchange information on the investment environment and investment opportunities as well as sharing their experience in attracting foreign investment and best practices in investment promotion.
Mr Ho said, "The signing of the MOU today signifies an important milestone for Hong Kong and Korea, which will further enhance co-operation and exchanges in terms of investment promotion between the two places."
Mr Sun said "Being a global super connector, Hong Kong is an ideal place for Korean companies to do their business in Mainland China and across the region. I sincerely hope many more Korean companies will take this opportunity to consider using Hong Kong as a stepping stone to expand their business overseas."
Speakers at the seminar included the Hong Kong Economic and Trade Representative (Tokyo), Mrs Winnie Kang; the Director General of Korea Trade-Investment Promotion Agency Hong Kong, Mr Hong Chang-pyo; the Head of International Relations at the Korea office of the Hong Kong Trade Development Council, Mr Benjamin Yau; partner of the Uni-World CPA Corporation Hong Kong, Mr Lee Beoung-goo; and Co-Founder and Co-CEO of Newsystock Co Ltd, Mr Ryan Moon. The speakers focused on how Korean companies can make use of Hong Kong's advantages to enter the Mainland market.
The InvestHK delegation will move to Busan tomorrow (April 20) to host another seminar and continue the promotion of Hong Kong's business advantages.
Ends/Wednesday, April 19, 2017
Issued at HKT 16:08